Trusted Protection for Your Files and Folders
Primeshare was designed to secure online file sharing. We take content security seriously. We use the Advanced Encryption Standard (AES) with a 256 bit key to protect your content. This is the same trusted security used by banks and the military to protect data.
Data Leakage Protection
Multiple Anti-Malware Engines
Military-Grade Encryption
24 Hours Support Access
Works with Your Existing Email
Easy for Senders and Recipients
You Can Recall Sent Emails
More Visibility with Smart BCC
Try Primeshare Today
Primeshare is the only file sharing platform that allows you to create your own client portal in minutes, provides best-in class security, and allows you to choose where to store files.
How does it work?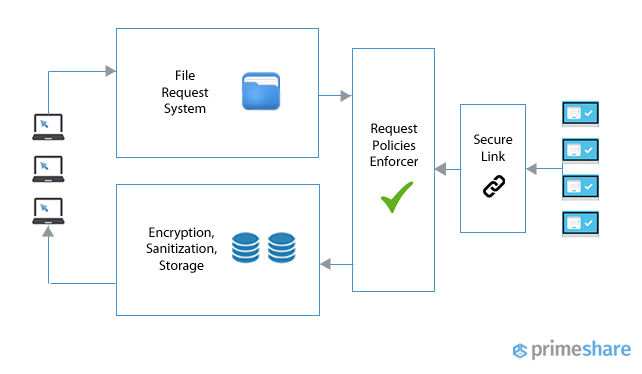 Content Protection at Rest and in Motion
Protection at Rest
Sensitive files that you upload to Primeshare servers are protected by strong encryption at all times. We use Advanced Encryption Standard (AES) with a 256 kits for content protection. This means that your files will only be accessible by you and your users.
Protection in Motion
All connections to our servers are secured with Transport Layer Security (TLS) and an SSL certificate with extended validation
Control Access to your Content
When you share files on Primeshare, you define who can see your files and Primeshare provides access logs files and folders showing views, edits, and downloads.