Protect Your Business from Advanced Threats
Protecting your email against advanced threats and loss of intellectual property while enabling your clients and employees to commnunicate easily can be quite challenging. Primeshare Secure Email enables you to protect incoming and outgoing email messages with strong encryption, access control, and malware scanning.
Data Leakage Protection
Multiple Anti-Malware Engines
Military-Grade Encryption
24 Hours Support Access
Works with Your Existing Email
Easy for Senders and Recipients
You Can Recall Sent Emails
More Visibility with Smart BCC
Try Primeshare Today
Primeshare is the only file sharing platform that allows you to create your own client portal in minutes, provides best-in class security, and allows you to choose where to store files.
How does it work?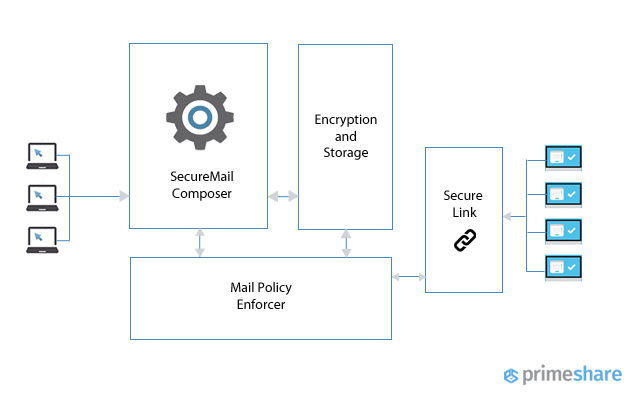 Protect Sensitive Information & Reduce Business Risks.
Primeshare's Secure Email works with your existing email address. In addition, email recipients do not need to register for an account in order to view messages.

When a Primeshare user sends a Secure Email from the Client Portal, the Primeshare SecureMail Composer encrypts and stores the email and then works with the Mail Policy Enforcer to generate a Smart Link for the message. The Smart Link is then sent to the recipient instead of the actual email. The Mail Policy Enforcer will validate the link and permissions each time before allowing the recipient to view the message. As such, the sender may modify permissions to a message or recall the messasge even after the message has been sent.